This Week's Library Events (and Photos):
Preschool Storytime – Mon., Oct. 26 at 10:30 to 11:30 am. Preschool storytime with Miss Glynnis.  Children ages 3-5. Join us for books, songs, finger plays, and a craft.
Sit N Knit – Mon., Oct. 26 at 4 pm for knitters of all levels and ages!
Teen Reading Lounge – Mon., Oct. 26 at 6:30 pm.  Free Books!  Free Food!  Continuation!  Teen Reading Lounge is an interactive, non-traditional BOOK CLUB exclusively for teens 14-18.  Join us for our 2nd KICK-OFF PARTY.  Library will provide copies of the book for you to keep!
Toddler Storytime – Tues., Oct. 27 at 10:30 am. Toddler storytime with Miss Jessica for children ages 1 and 2 years.  Come join us for: interactive stories, songs with finger plays and nursery rhymes on felt board.
Library Yoga –

Wed., Oct. 28 at 10:30 am

in

Community

Room

with Theresa Landolfi. $7 per session, drop in. 

KIDS: Halloween Dress-Up Party – Wednesday, Oct. 28 at 7 pm! in the Community Room. Open to all, Registration requested.
FRIENDS: Versatility of Your Heirlooms and Treasures: Fine Jewelry Informative Seminar conducted by Robert Schwartz and Iris Schwartz of Harry Merrill & Son, Jewelers on Thurs., October 29, 2015 at 7 pm in the Multipurpose room.
Friday Movie Matinee –  Fri., Oct. 30 at 2 pm. Clouds of Sils Maria – A veteran actress comes face-to-face with an uncomfortable   reflection of herself when she agrees to take part in a revival of the play that launched her career 20 years. R (language & brief nudity) 2 hours 4 minutes. Movies are free and open to the public.

TEENS: Night of Fright

-Fri, October 30, 6:30 pm. 

Haunted Library!

Teens – Join us after-hours for a Night of Fright. Come in costume if you dare! Light refreshments will be served. Registration requested.

Have a Safe and Happy Halloween!
Display Case
Features original art by Kathleen Foley, Library Assistant. She will also be leading another Painting with Kathleen program in December!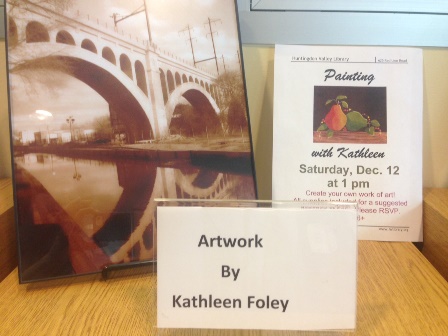 Diary of a Wimpy Kid
Release Party and Library Take Over
Tuesday, November 3
7 pm | meet in the Children's Department
Election Booth – vote for your favorite book
Photo booth – Become one of the characters!
Drawing station – Learn to draw Greg's character step-by-step
Trivia Game – test your knowledge of the series
Cheese Touch Game
Scavenger Hunt throughout the library!
Fun prizes
Be one of the FIRST to take Old School out of the library
Children of all ages welcome and Registration is requested
NEWS:
New eBooks and digital audiobooks have been added to the Library's OverDrive collection, also known as the Montgomery County Library District Digital Collection.  Interested in seeing JUST what's available for your IMMEDIATE listening or reading enjoyment?  Or maybe I'm the only impatient one?
Sign in using your Huntingdon Valley card

Click on Advanced Search
Scroll to the bottom and check "Available Now" and hit Search

Browse all the great titles that are ready for you to download and enjoy!
Call and schedule a one-on-one Tech Appointment with us if you would like additional help setting up or using your OverDrive account.
Here are some of the new titles added…
Audiobooks:
A Song of Ice and Fire Complete Series (unabridged) by George R. R. Martin, narrated by Roy Dotrice
At the Water's Edge: A Novel (unabridged) by Sara Gruen, narrated by Justine Eyre
The Boston Girl: A Novel (unabridged) by Anita Diamant, narrated by Linda Lavin
eBooks – fiction, fantasy, mystery, and romance:
All Fall Down by Jennifer Weiner
All the Light We Cannot See: A Novel by Anthony Doerr
Between Sisters: A Novel by Kristin Hannah
Fates and Furies: A Novel by Lauren Groff
In the Shadow of Blackbirds by Cat Winters
Luckiest Girl Alive: A Novel by Jessica Knoll
Ordinary Grace: A Novel by William Kent Krueger
The Adventures of Sherlock Holmes by Sir Arthur Conan Doyle
The Boston Girl: A Novel by Anita Diamant
The Door in the Hedge: And Other Stories by Robin McKinley
The Invention of Wings: A Novel (Original Publisher's Edition-No Annotations) by Sue Monk Kidd
The Iron Duke: The Iron Seas Series by Meljean Brook
The Last Letter from Your Lover: A Novel by Jojo Moyes
The Martian: A Novel by Andy Weir
The Nightingale by Kristin Hannah
The Paris Architect: A Novel by Charles Belfoure
The Trouble with Virtue: A Comfortable Wife\A Lady by Day by Stephanie Laurens and Alison DeLaine
To Kill a Mockingbird by Harper Lee
Non-fiction, self-help,  history:
Leaders Eat Last: Why Some Teams Pull Together and Others Don't by Simon Sinek
Start with Why: How Great Leaders Inspire Everyone to Take Action by Simon Sinek
The 7 Habits of Highly Effective People by Stephen R. Covey
The Wright Brothers by David McCullough
Wishes Fulfilled: Mastering the Art of Manifesting by Dr. Wayne W. Dyer
You Can Heal Your Life by Louise L. Hay
Upcoming Events: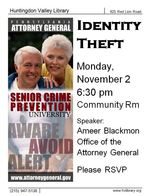 ADULTS: Identity Theft Program -Mon, November 2, 6:30 pm. Ameer Blackmon from the Attorney General's Office, will return to talk about Identity Theft in the
2nd Floor Community Room.
Please RSVP.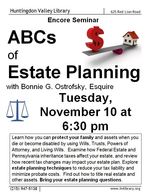 ADULTS: ABCs of Estate Planning
-Tue, November 10, 6:30 pm. Repeat from Spring! Join us in the 1st Floor Multipurpose room for this Free Seminar.  Please RSVP. Learn how you can protect your family and assets when you die or become disabled by using Wills, Trusts, Powers of Attorney, and Living Wills.
Bonnie G. Ostrofsky
is a past President and an active member of the Rotary Club of Springfield Township. She is also a member of the Montgomery Bar Association, Pennsylvania Bar Association, and Montgomery County Estate Planning Council.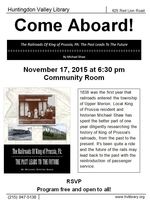 ADULTS: Railroads of King of Prussia with Michael Shaw -Tue., November 17, 6:30 pm. Climb aboard! 1838 was the first year that railroads entered the township of Upper Merion. Local King of Prussia resident and historian Michael Shaw has spent the better part of one year diligently researching the history of King of Prussia's railroads, from the past to the present. It's been quite a ride and the future of the rails may lead back to the past with the reintroduction of passenger service.
Upcoming Events:
Thu, November 12, 1:30 pm. Ceramics Workshop at Create Me Pottery Painting Studio. Cost $25.00 per person includes pottery, paints and firing.  Make your reservations by Monday, November 9, 2015 at The Friends' Corner in the Library. Sponsored by Friends of Huntingdon Valley Library.

Julia Child Says Bon Appetit! Encore presentation by Linda Kenyon on Thursday, Nov. 19 at 2 pm, after the Friends Book Club.  Free and Open to All!
Basket of Books raffle coming this fall and will debut at Bake Sale.
Election Day Bake Sale – Nov. 3, 2015 at Pine Road Elementary
Election Day Canasta at The White Elephant Restaurant (759 Huntingdon Pike) from 11:30 to 3:300.  Cost: $25. Register with Karen Schwartz.  Proceeds will support the Library's Art collection, both print and visual!