Library Leadership Wants to Hear Your Voice!
Updated as of 10/18/2014.
As members of the Library Board of Trustees work to craft a new Strategic Plan for the Library, they invite you to share your ideas, concerns and vision for library's future at a Community Forum.  Your valuable input and feedback is vital to the planning process! We want to hear YOUR voice.
Please attend the final Community Forum on Saturday, October 25 at 10:30 am in the Community Room
Complementary bagels from Brooklyn Bagels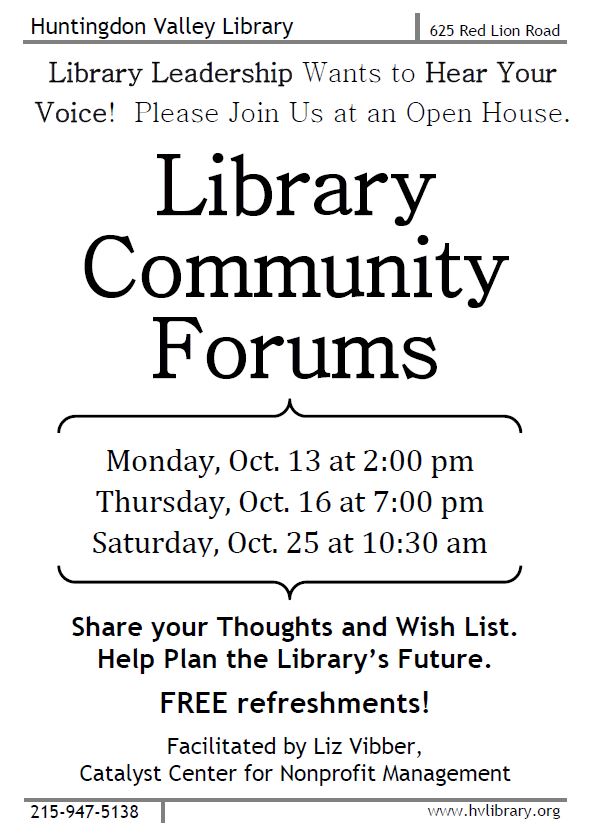 We truly want to listen and hear your opinions, whatever they are, about all aspects of Huntingdon Valley Library — the building, staff and/or programs and services.  How can we best serve you, your friends and families in the future?  Now is your chance to let us know and help build and even better library and community hub in years to come!" – Miryam Roddy, Board Secretary
This discussion, facilitated by Liz Vibber of Catalyst Center, will explore the themes and issues brought up in the Customer Survey and interviews with key stakeholders from the surrounding community.  Each forum will be approximately 1-hour long, with refreshments and chances to win door prizes!
We want to thank everyone who participated in the first two Forums, as well as the Teens who came and shared their creative ideas and insights.
As of Oct. 18, we had 250 responses to the Customer Survey.  The drawing for a Samsung Galaxy Tab 3 Lite ended Oct. 17, but the Survey will remain open until Oct. 25.
The Survey is located here. 
This 14-question Survey includes:
Five questions about current Library services
Three open-ended questions about the library and its future
Five demographic questions
One final question to sign up to receive the weekly newsletter
Thank you for your time and opinions.  The Board and Staff work in concert to provide the residents of the Lower Moreland Township and Huntingdon Valley Library users with great Library services.  Your feedback helps ensure we continue down the right path. If you run into any problems or would prefer to complete a paper survey, contact me at 215-947-5138 or by email at hvldirector@mclinc.org.
Sincerely,
Sharon Moreland-Sender
Director